You are currently browsing the daily archive for January 19, 2019.
Honestly!  What the heck Western News Media? (The Guardian excluded)  I think it would be nice to know about humanity once again visiting our moon and doing sciency things, maybe report on it?
China on Friday broadcast pictures taken by its rover and lander on the far side of the moon, in what its space programme hailed as another triumph for the groundbreaking mission.
The pictures, shown on the state broadcaster CCTV, showed the Jade Rabbit 2 rover and the Chang'e 4 spacecraft that transported it during the first soft landing on the side of the moon that always faces away from Earth.
The pictures were transmitted by a relay satellite to a control centre in Beijing, although it was not immediately clear when they were taken.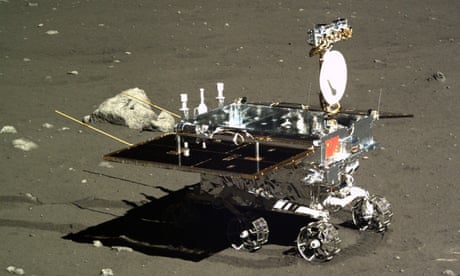 Showing the rover moving away from its lander, officials with the China National
Space
Administration said they marked a "total success" for the mission.
When you look up at the full moon, you only ever see one face, but scientists believe that the far side, eternally hidden from view, may hold the key to fundamental mysteries about the moon's formation. Last week, a Chinese spacecraft made history by becoming the first to land on the far side of the moon. Today, China shared pictures showing a rocky surface with the jagged edges of craters in the background. Among the images is this 360-degree panorama stitched together from 80 photos. Researchers hope that low-frequency observations of the cosmos from the far side of the moon, where radio signals from Earth are blocked, will help scientists learn more about the early days of the solar system and the birth of the universe's first stars. The pioneering landing also highlights China's ambitions to rival the US, Russia and Europe with its space programme.
Photo: CNSA
Go Chinese space agency!