You are currently browsing the tag archive for the 'Gender Ideology' tag.
This was the result of a male student 'self-id'ing into a female sport locker room. The female child that complained about having a male perv on them and her Father were both subject to censure and school disciplinary procedures, including attempting to compel their speech and actions. Thankfully that bullshit was stopped dead in its tracks.
Blake's father, Travis, got involved when he responded to the following Facebook post by the mother of the son/daughter:
I am the mother of the trans student in question and my [son] daughter did not make any comments at all. The entire team can back this up, other than the girl that made up the story for attention.

This is slander, defamation of character, and we have secured a lawyer….
Travis responded:
I am the father of the girl you claim "made up a story for attention." The truth is your son watched my daughter and multiple other girls change in the locker room. While he got a free show they got violated.

You think this is fine and dandy. I wonder how you would feel if I watched you undress?
For that transgression school officials demanded that Travis apologize, and ended a contract it had with him as coach of the school's girls' soccer team.

Claimed the ADF in its lawsuit:
The First Amendment does not countenance this kind of government censorship, where a public school mandates that students and coaches refrain from expressing any view that offends its prescribed views, particularly on an issue as important as whether the school should permit males identifying as girls to undress, shower and change in the girls' locker room.

Travis and Blake Allen were entitled to express their views on that issue and, in expressing those views, to support them with what is a biological fact — that a biological teenage male is, indeed, a male.

This case presents a textbook example of unconstitutional viewpoint discrimination, and Plaintiffs are entitled to all appropriate relief.
ADF summed up their argument:
By requiring Blake Allen to take part in a "restorative circle" to help her "understand the rights of students to access public accommodations … in a manner consistent with their gender identity" and "submit a reflective essay" that meets Defendants' own standards in order to avoid additional out-of-school suspension, Defendants are seeking to compel her to speak in violation of the First and Fourteenth Amendments.

By requiring Travis Allen to issue a public apology for his September 29 Facebook post as a condition to be reinstated as a coach, Defendants are seeking to compel him to speak in violation of the First and Fourteenth Amendments.
The state of Vermont has created this problem by its willingness to buy into the current fad of "transgenderism." It states that

All students have a gender identity which is self-determined;

All persons, including students attending school, have privacy rights.

Vermont defines "transgender" as "an individual whose gender identity or gender expression is different from the individual's assigned sex at birth."

Conflict is therefore inevitable, yet it never existed when the Genesis account was considered the basis of all law. Genesis 1:27, if Vermont state officials would follow it, eliminates the conflict: "God created man in His own image, in the image of God He created him, male and female He created them."

After reviewing the lawsuit, school officials backed down. Said ADF: "Shortly after filing the lawsuit, counsel for the school officials notified ADF attorneys that the superintendent was rescinding the disciplinary actions."
Score one for the good guys.
I can remember back when the notion that gender, being sex stereotypes were something to be avoided or at least treated skeptically. The recent transgender ideology throws these notions out and fully embraces the toxicity that comes with gendered stereotypes.
—Chapters—
(0:00) – Coming Up
(0:57) – Intro
(2:22) – Writing "Trans"
(9:46) – Women and Biological Reality
(19:50) – Age Solidarity Among Women
(24:57) – Narcissism, a Key Contributor
(34:53) – Fetishes & the Unbalanced Psyche
(36:57) – Breaking the Fantasy
(42:25) – Freud & the Oedipal Complex
(48:11) – Context Defines Your Identity
(55:45) – Transhumanist "Meat Lego"
(59:40) – The Depth of the Battle, the Death of God
(1:05:54) – Lying to Children, Ellen Page
(1:10:27) – The Social Pillory
Hey parents you can start the child grooming process early with the help of CBC kids.  This helpful section will indoctrinate your child into the hollow vacuum that is gender ideology and all the pathological self hatred that goes along with it.  Children need stability in their formative years.  Introducing them to the ever shifting sands of gender nonsense is not doing them any favours.
There are male and female pronouns.  They correspond to the physical reality we encounter in society.  Someone's feelings about their sex can never change what their sex is.
How you feel about your sex is irrelevant.  You are either male or female.  The term Non-Binary is nothing-burger.  It is a meaningless sexist term that has no bearing on the real world.  Why sexist?  Ask yourself, what is it to be to be a female or male?  Automatically a list of societal sex stereotypes will appear in your consciousness.
Men and Women have personalities.  Those claiming special identities should look into developing an actually interesting persona instead of making the rest of society play word games to appease them.  More to the point, children do not to need look to adults with a paucity of personality on how to order their world.
Actually gender is about boys and girls.  In society we have a set of gender stereotypes prescribed for males and female in society.  Gender is mostly socially constructed arbitrary bullshit that is often a hindrance in the development of well rounded boys and girls.  People from both sexes are free to enact gender traits/stereotypes either side of the binary.  Enacting or following a particular set of gendered norms is simply that – it cannot and will not ever change your sex.
Gender Identity is nonsense that has subverted the idea of gender non conformity and the idea of having a personality and has replaced them with a fragile construction of basing your self worth on the validation and approval of others.  In other words, a recipe for childhood disaster, because no other person is obligated to validate your subjective gender feelings.  CBC Kids, how about let's not groom children into the grievance/validation negative self spiral?
*Sigh* Can we not confuse children with millions of terms for people who lack adequate personality formation?  That would be great.  A big No Thank You to CBC kids and their program for destabilizing childhood identity formation.
From the Canadian Government's news realease –
"The legislation proposes four new Criminal Code offences that would prohibit:
causing another person to undergo conversion therapy

removing a minor from Canada to subject them to conversion therapy abroad

profiting from providing conversion therapy

advertising or promoting conversion therapy
The proposed legislation would also authorize courts to order the seizure of conversion therapy advertisements or to order their removal from computer systems or the Internet.

This bill expands on Bill C-6, adopted by the House of Commons in the previous Parliament. It does so by protecting all Canadians—regardless of their age—from the well-documented harms of conversion therapy practices.

Conversion therapy practices aim to change an individual's sexual orientation to heterosexual, to change an individual's gender identity to cisgender, or to change their gender expression to match the sex they were assigned at birth. They harm and further stigmatize sexual and gender-diverse persons and undermine their equality and dignity. They reflect myths and stereotypes about lesbian, gay, bisexual, transgender, queer and Two-Spirit (LGBTQ2) communities, particularly that their sexual orientation, gender identity or gender expression are wrong. These harmful practices also reinforce heteronormative and cis-normative ideas, as well as gender-conformity on LGBTQ2 individuals.

The practice can take various forms, including counselling and behavioural modification. Conversion therapy practices are discriminatory and have been proven to be harmful to the physical, mental and social well-being of the victim, even for adults who consented to it.

Criminal law reform is an important step in protecting the equality and dignity of LGBTQ2 persons, but more remains to be done. The Government of Canada is committed to working with provinces, territories, municipalities, survivors and stakeholders to ensure that Canada is a country where everyone—regardless of their gender expression, gender identity, or sexual orientation—can live equally and freely."
The Federal Liberals are going full steam ahead with the gender ideology bullshit.  It just passed the in the House of Commons unanimously – because our Conservative opposition has jello instead of a spine.
It looks like we're trying to codify the 'gendered soul' into law in Canada.  Of all the nebulous concepts that don't need the state backing them up, it at the head of the list.  This bill had better not be lumping the therapy that actually helps children be comfortable in their own body without surgery of hormones into an unlawful category.  The notion that watchful waiting and other material reality confirming therapies are unlawful is just fucking crazy.
From The Canadian Gender report:
"Ken Zucker, Ph.D. C.Psych and Professor of Psychiatry at the University of Toronto presented a discussion of the differences in developmental trajectories for children with gender dysphoria at the 24th Congress of the World Association of Sexual Health, in October 2019, Mexico City. The following information is summarized and quoted from his presentation.
Dr Zucker based his analysis on a review of a number of follow up studies for persistence and desistance rates. He categorized therapeutic approaches designed to reduce gender dysphoria into 3 different types:
Treatment 1:  Assessment, "watchful waiting"

Treatment 2:  Assessment, active treatment of many kinds (recommendations to parents to implement in the naturalistic environment, behavior therapy, play therapy, psychodynamic psychotherapy, group therapy, etc., etc.)

Treatment 3: Gender Social Transition
"The follow-up studies summarized so far, by and large, collected data on children who were assessed (and sometimes treated) prior to the emergence, around the mid-2000s, of pre-pubertal gender social transition as an alternative type of psychosocial treatment designed to reduce gender dysphoria: a treatment that parents may have instituted on their own, in consultation with a clinician, or on the advice of a clinician or some other type of professional (e.g., a teacher)."
The very low persistence rates in the case of Treatments 1 and 2 show that gender identity becomes more congruent with birth-assigned sex in the majority of cases.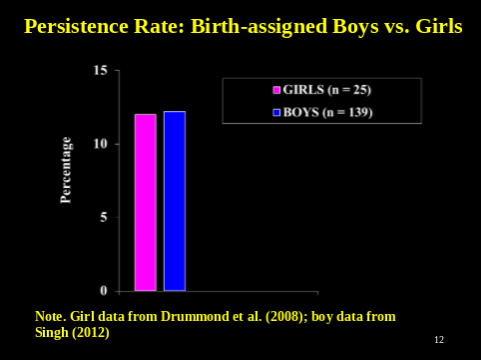 To compare the persistence and desistance rates of children who received a gender-affirming care approach characterized by social gender transitioning, Dr Zucker used data from Steensma et al. (2013) which reported a systematic follow-up study of children in which some children were classified as having had either a partial or a complete social transition prior to puberty.
The relationship between social gender transition and the follow-up persistence and desistance rates is striking. Among desisters, almost none of the natal boys had socially transitioned. Almost 45% of the persistors, however, had partially or completely socially transitioned, yet their gender dysphoria had not resolved.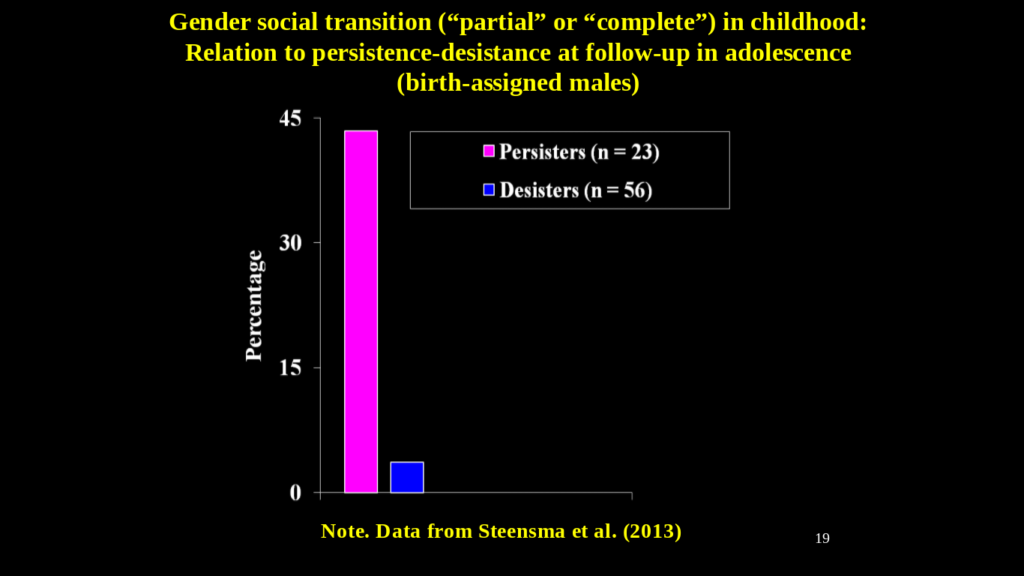 Social transition in relation to persistence and desistance was not as strong among the girls. Almost 60% of the persistors had socially transitioned. A significant number of desisters had socially transitioned as well, although Dr Zucker cautioned that the definition of social transition used by Steensma probably captured some girls where the social transition metric may have been very broad (e.g., change in hair-style or clothing style).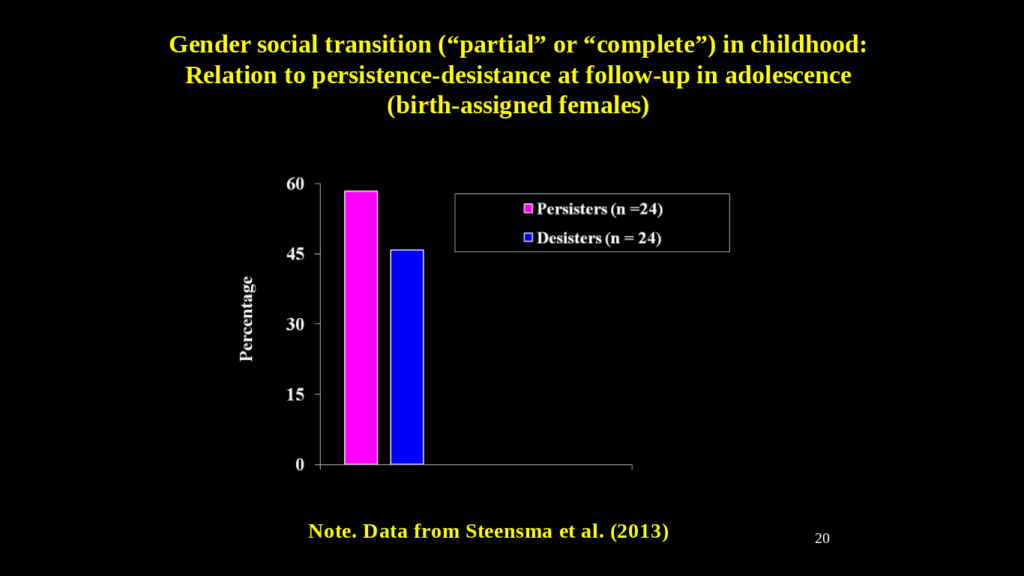 Dr Zucker predicts that as new samples of socially transitioned children become available, the rate of persistence will be much higher when compared to the older studies, where most of the children received either Treatment 1 or Treatment 2. Of the 3rd type of treatment, social gender transition, he commented that it offers a different approach that leads to desistance: the gender dysphoria dissipates because the child is now living in the "desired" gender; however, for desistance to remain stable, it will often, if not always, require biomedical treatment (life-long hormone therapy with or without gender-affirming surgery).
There are many possible pathways to desistance, which leads to the parental conundrum: which therapeutic approach does one take to reduce gender dysphoria? This is what the contemporary parent (and clinician) must decide."
This is some authentically scary shit.  Parents could be arrested for wanting effective means of treatment for their children.  This isn't good my fellow Canadians, and let us hope that the Senate can add some clarity to this proposed nightmare of a bill.