You are currently browsing the category archive for the 'Canada' category.
The rights of females are being trampled in California as women's boundaries and safety are being ignored in favour of male gender fantasy.
"Crazy California laws occasionally go national. Take SB 132, which took effect in January. It allows transgender-identified male state prison inmates to transfer into women's prisons based on "individual preference"—no hormones, surgery or time spent living as the opposite sex required. Spokeswoman Terry Thornton of the California Department of Corrections and Rehabilitation says 264 male prisoners have declared a nonmale identity and formally requested transfer to women's facilities.
If Congress passes the Equality Act—the House already has—incarcerated biological men who identify as female would be entitled to transfer into women's federal prisons and possibly also state prisons nationwide. How's that working in California?"
This has never been about trans gender rights.  This is about endangering and erasing females as a class in our society.  It is bullshit and it needs to stop.
  "But according to Tyrina Griffin —who served 20 years at Chowchilla for second-degree murder and whose wife, Rachelle Johnson, is currently serving a life sentence there—many of the men who are transferring there aren't even on hormonal medication. "They're getting a full erection," she said. "So you're locked in this room, 24/7, with a man and there's nothing you can do about it. If you tell the police you don't want to live with a man, or you're afraid or whatever, you'll get a disciplinary infraction. So you're basically punished for being scared."

Because female inmates are typically far less violent than male ones, women's prisons like Chowchilla don't separate inmates based on the severity of their crimes. "We're all mixed together," Ms. Ichikawa said. "The people who've murdered their children are in the same room as the people who've stolen boxers from Walmart. "

Also unlike men's prison, inmates at Chowchilla are housed eight to a room, with a sink and toilet inside the cell and only a cowboy door for modesty. The California law specifically states that no inmate may be denied a housing request for "any discriminatory reason," including "genitalia" or "sexual orientation." According to some surveys, a majority of biological men who identify as trans women are sexually attracted to women. "How are you going to prevent these people from having sex?" Ms. Ichikawa said. "And how do you then decipher what's sex and what's rape?" The women told me—and studies confirm—that the vast majority of incarcerated women are sexual-assault survivors."
If your 'feminism' or supports this active harm being inflicted on women, let me assure you it isn't feminism.
  "The California law also directs cavity searches to be conducted "based on the individual's search preference"—meaning if a biological male who identifies as transgender would prefer to be cavity-searched by a female officer, he is entitled to it. It's just "another opportunity to violate women, every woman in the facility," Ms. Ichikawa said. "I don't know why it was written so callously. I feel like there's so much hate for women," she said.

Ms. Thornton, the Corrections Department spokeswoman, stressed that the department evaluates transfer applications on a case-by-case basis. It has approved 26 of them. "We haven't denied any requests so far," she said.

She also confirmed that although there are many female prisoners in California's women's prisons who identify as men, only seven have requested transfer to the men's prison. Why so few? I asked Ms. Ichikawa, who answered: "They would get killed."
Funny how that works.  The reality of sex remains despite all the gender obfuscation from the gender religious.
What isn't funny is that females are being put at risk and harmed because somehow it is easier to believe in male gender feels that it is to believe in female safety in society.
This dangerous policy of placing males with females in prison also exists in Canada.
*edit* – Did you want to fight back and stand up for female rights and safety here in Canada – Heather Mason has a campaign and a fundraiser to promote female safety in Canadian Prisons.
Let's start of with Halifax Pride statement of desperately hurt feelings:
In recent weeks, Halifax Pride was made aware of a petition asking the Halifax Public Library to remove a newly acquired book that jeopardizes the safety of trans youth, through unsupported medical claims and the transphobic assertion that trans identities are a choice.

We want to thank the individuals who took the time to create and bring this petition to our attention. We recognize their work and emotional labour in holding their own discussions with the library.

We reached out to the library to understand their acquisition process and urge them to take corrective action to remove the book and review their Collection Development Policy. We hoped that they would understand that the book's misleading health advice put local trans youth in immediate harm. We expected feedback from trans individuals and a queer community partner to result in further reflection and a new course of action.

Yesterday, representatives of the library communicated to members of our community, and to us, that they have decided to keep the book in their collection without further review of their policies.

Halifax Pride has decided to end our partnership with the Halifax Public Library, including events planned for the 2021 festival, and will refrain from booking library spaces until this issue is addressed with some combination of internal review, policy change, and training.

Halifax Public Library's collection process is at odds with Halifax Pride's commitment to protecting vulnerable members of the 2SLGBTQ+ community. We hope the Halifax Public Library will reconsider its stance and amend their policies to prioritize the health and safety of the public.
What is this evil tome that is 'jepordizing the safety of trans youth' (!?!?!?!??) you may ask?
Irreversible Damage by Abigail Shrier.
A quick Summary of Shrier's work from Wikipedia:
'Shrier states that she began to investigate adolescent-onset gender dysphoria after being contacted by the mother of a young adult with no apparent history of childhood gender dysphoria, who identified as transgender in college. She describes what she sees as difficulties facing teenagers who were assigned female at birth, whom she refers to throughout the book as "girls"isolation, online social dynamics, restrictive gender and sexuality labels, unwelcome physical changes and sexual attention. She profiles several teenagers who questioned their gender identities or came out as transgender while experiencing mental health or personal issues. She discusses Lisa Littman's 2018 journal article on rapid onset gender dysphoria and the ensuing controversy and endorses its findings. She states that online trans influencers encourage questioning youth to identify as trans, experiment with breast binding and testosterone, and disown or lie to unsupportive family members.


Shrier criticizes transgender-related curricula and policies in schools. She describes parents distressed by their children's transgender identification or transition. She critiques the gender-affirming model of care and profiles its critics: Kenneth Zucker, Ray Blanchard, J. Michael Bailey, Lisa Marchiano, and Paul McHugh. Shrier discusses trans activism and related controversies, including sex-specific privacy concerns; passing versus trans visibility; the role of celebrities in increasing trans acceptance; conflict between transgender people, and lesbians or radical feminists; transfeminine/male-to-female athletes competing in girls' and women's sports; the use of trans-inclusive language; intersectionality; and identity politics. She argues that medical interventions such as puberty blockers, cross-sex hormones, and surgeries include risks, and describes a transgender person who became disabled after a failed surgery. She also profiles detransitioned young women.'

Yes, so the faux-progressive authoritarian Left in Halifax is having a major fit about a book that shed's some light on the gender magic they hold near and dear.  Now that you have a sketch of Shrier's book, let's break down Halifax Pride's Official statement.
   "In recent weeks, Halifax Pride was made aware of a petition asking the Halifax Public Library to remove a newly acquired book that jeopardizes the safety of trans youth, through unsupported medical claims and the transphobic assertion that trans identities are a choice."
Which unsupported medical claims are you referring to? The only unsupported claims I can see being made are the ones contained in your sentence.  Demonstrate where Shrier's book is in fact a real and present danger to children.  If the case for being trans or attempting to trans children is rock solid it should a easy slam dunk to refute.  But it isn't, so we are left to swirl in the mists of vague statements like 'unsupported medical claims' and the near ubiquitous injunction of 'transphobia'.  Women speaking about their experiences, biological fact, and material reality have all been branded as 'transphobic' by the high priests of gender ideology.   It is the new heresy on the left and can, in most cases, be dismissed as vacuous bullshit.  
"We want to thank the individuals who took the time to create and bring this petition to our attention. We recognize their work and emotional labour in holding their own discussions with the library."
A small group of nearly permanently offended individuals are now extra offended at the mere presence of a book in a public library that concretely refutes the gender orthodoxy they believe in.  This blasphemous work must not be seen by others as people must not be exposed to ideas and notions that are critical of the transgender religion.  Questioning the ideology is verboten, and dissent must be quashed before it can grow.  As you can clearly see, all the hallmarks of a condition/ideology that has a firm basis in reality…
"We reached out to the library to understand their acquisition process and urge them to take corrective action to remove the book and review their Collection Development Policy. We hoped that they would understand that the book's misleading health advice put local trans youth in immediate harm. We expected feedback from trans individuals and a queer community partner to result in further reflection and a new course of action."
Burn this book immediately!  And here are more unsupported claims to coerce and shame you (Halifax Public Library) to bow to our campaign and stop other members of the Public from reading these heretical books and ideas that contradict our version of reality.

  "Halifax Pride has decided to end our partnership with the Halifax Public Library, including events planned for the 2021 festival, and will refrain from booking library spaces until this issue is addressed with some combination of internal review, policy change, and training.

Halifax Public Library's collection process is at odds with Halifax Pride's commitment to protecting vulnerable members of the 2SLGBTQ+ community. We hope the Halifax Public Library will reconsider its stance and amend their policies to prioritize the health and safety of the public."
We are taking our toys and going home in hopes that our tantrum will shame you into throwing the notions of free speech and the free exchange of ideas under the bus.  There is no protection going on here, just the creeping rise of censorious gender totalitarianism that seeks to throttle all dissent and criticism of an ideology that is harmful for females and children.  The Halifax library has rightly told the Halifax pride to fuck the hell off with their demands for censorship of criticism of their precious (and pernicious) ideology.
Well enough of that.  The hurt feelings brigade has registered another loss in trying to coerce a public institution to bend its knee to their bullshit ideology.  Score one for the good guys.  Thank you Halifax Public Library for defending free speech and the exchange of ideas in the public sphere.
I never thought that I would become politically homeless in my lifetime.  The tenets of class analysis, proletarian struggle, looking after the less fortunate in society seemed like a rock-solid bulwark to hold.
Lately though, the Left I see is rife with witchhunting, purity tests, and outright excommunication for heretical actions (and non-actions).  Disagreement is met with a extreme paucity of charity and hostility that at one time, was the sole domain of the fundamentally religious right.
I understand times change, but the illiberal Left today doesn't resemble anything I ever signed up for.  So, the next step I suppose for me is the coming to terms with being more politically unmoored as time passes.
Obaid Omer shares a similar experience but his narrative speaks of a journey from the full embrace of Islamic religious values to a seeking solace in Liberal values of the West.  In his journey though he observes a chilling similarity between his religious roots and the new set of 'liberal values' (hence the title of this post the Fuaxgressive Left) that are flourishing today.
"But when I came back to Canada in 2014, I returned to a different country than the one I had left.

I had left a country that was proud of being the opposite of what bothered me about Islam, that was proud of a tradition of free inquiry and free speech, open debate and civil discourse. The Canada I returned to resembled the religion of my youth more than it did its opposite.

I left a culture that was steeped in a sentiment that could be summed up as, "I may disagree with what you say, but I respect your right to say it." I returned to a culture summarized by, "I disagree with what you say, so shut up."
Quashing debate and argument seems to be the name of the game these days, as certain opinions have been designated as unapproachable or 'settled' topics.  In a society that values the free exchange of ideas almost everything has to be on the table.  Odious free-speech must be protected along with the prosaically milquetoast free speech.
"The dam broke. Once they started calling it racist to criticize Islam, it was easy to shut the conversation down completely. The accusation meant the accused was morally beyond the pale, and thus completely dismissible. Words like micro-aggressions, trigger warnings, and safe spaces became mainstream. An emphasis on pervasive racism grew exponentially. To even question the extent to which racism was everywhere resulted in accusations of being a racist. Like with religious blasphemy codes, you can only talk about certain topics in specific ways."
Ask your local MP what their definition of Woman is.  I'd be surprised if you got a response, because like discussing the extent of racism in society, trying to discuss female rights, boundaries, and safety has been designated a no-go zone by the gender reactionaries – the people that believe that men can become women simply by saying so.  Oppose their dictates and suffer the consequences: insults, threats, and if you happen to be a public figure the loss of your job or opportunities because the zealots get in touch with your employer.  Not very free-speechy I'm afraid.
"I couldn't help but notice there was an almost fundamentalist, faith-like aspect to these claims. It was as if in the years since I'd been gone, our society had decided to adopt the blasphemy codes of my youth. When I heard people asked to check their privilege or introspect the ways they have been racist, it sounded like the inner jihad that Muslims are supposed to perform to make sure they are on the correct path.

How did this happen? How did the religious tenets I had abandoned come to take over the liberal culture I had abandoned them for?"
When liberals lose sight of the basic principles of liberalism, this is what happens. 
  Yeah. The fauxgressive left is really big on the Rationalism or Individualism tenets anymore.
"And just as in Islam, there is a jockeying for who is the accurate representation of the faith, Sunnis or Shia, in the social justice camp, believers decide who the true representatives of each oppressed group are. Fall afoul of the right political view and you will be denounced; people throw around terms such as "political blackness" or "multi-racial whiteness." Just as apostates from Islam are said to not have been real Muslims, detransitioners are told they were never really trans and Black people who speak out against the tenets of critical race theory are told they're not really Black.

In Muslim countries, biology textbooks will censor evolution. Now, due to gender theory, biology is similarly coming into conflict with an ideology—and losing. A mixture of post-colonial theory and critical race theory is behind a push to disrupt texts, a call to decolonize the Western Canon and school curricula. Critical social justice ideologies are in direct conflict with Enlightenment values and the rigors of the scientific method, like Islam, and are thus a huge threat to liberalism—like Islam."
Yep, it's moving toward (or has already jumped ship from actual liberal values) batshite crazy inside the hallowed halls of so many of Canada's institutions now.  The federal government, Universities, social institutions.  We should heed Omer's warning:
"I have had the good fortune to meet and speak with many brave people in the fights against fundamental Islam and critical social justice. As I once did when speaking to Muslims, I keep hearing about the silent majority that is opposed to CSJ.

That silent majority needs to become vocal very quickly. We need more people to be brave enough to speak up and push back. The long march through the institutions is sprinting into the final lap, and it cannot be allowed to win. Take it from an ex-Muslim."
This webpage from the Official Canadian Department of Justice is incomplete because of this:
Where the hell is the definition for men?  Did our esteemed Canadian Legal Justice of Department make a little oopsy-boo boo?  Probably not.  You know why?  Because the category of men is fucking indisputable, men will not tolerate having their category "expanded to be more inclusive" because 'as it known' men are fully fucking human and distinct category within society.  Those females though, they get a whole new meaning that erases them from society it can be found later in this gem of a webpage. I quote:
"Women: All people who identify as women, whether they are cisgender or transgender women."
A kindly reminder double XX'ers that you malleable and erasable in society,  -because 'gender-feelings' – males can claim they are women and should be treated as female, and have access to female only spaces, services, and sports.
I'll be identifying as rightfully pissed off until this gender nonsense is debunked, repealed, and removed from official Canadian Government Websites.
I say erroneous because it includes bullshit like this:
"Cisgender: People whose gender identity matches the sex that they were assigned at birth."
No person 'identifies' with the toxic set of stereotypes that society attempts to shoehorn them into.  Especially true for women, as identifying as second class citizen (work for less, second shift, objectification FTW!!!), just isn't fucking appealing. 
Gender-diverse: Refer to individuals who do not identify as exclusively male or exclusively female (for example, individuals who are non-binary or two-spirit).
People have personalities.  You are either male or female, with a personality. 
Gender identity: A person's internal and deeply felt sense of being a man or woman, both or neither. A person's gender identity may or may not align with the gender typically associated with their sex.
What kind of fucking bullshit is this.  We do not have souls, gendered or otherwise.  What – exactly – does feeling like a woman (or man) entail?  Can you describe the experience without using stereotypes?
Non-binary: Person whose gender identity does not align with a binary understanding of gender such as man or woman. A non-binary person may identify as neither a man nor a woman, both, or anywhere along the gender spectrum.
I feel the need to have my own special category that is essentially meaningless so I can feel good about myself for my supposed uniqueness… Get quickly into the Sea, narcissist. 
Sex assigned at birth: A person's biological status as male, female, or intersex based on their primary sexual characteristics at birth.
Sex is observed at birth.  There is no assigning.  The doctor looks at your junk and on that can accurately observe what sex you are.  No assignment necessary. 
Women: All people who identify as women, whether they are cisgender or transgender women.
Goddammit Canada.  I'm going to identify as the fucking Queen and have the legal department hung by its thumb until some fucking sense trickles back into the department.  Women are adult human females.  End of fucking story you nitwits. 
Gender ideology is infesting our institutions.  It needs to be stopped before it goes any farther.
Statistics are a part of our lives.  Sadly, most people do not have a clue how they work and how they are to be interpreted.  Our conservative government here in Alberta continues to find unique and exciting new ways to  drop the ball when it comes to dealing with the pandemic.  The government has set up mass vaccination clinics in Calgary and Edmonton and both are ghost-towns.
Why?
(**edit – It has been brought to my attention that this comparison is more like orange to apples than oranges to oranges – The type of clot and severity are on quite different scales.  However, a better comparison would be the possible chance and complications from the AstraZenca vaccine versus the chance and effects of being infected with Covid 19 or one of its variants and the complications involved.  The vaccine is the better choice.)
Because people don't want to die of AstraZeneca vaccine related blood clots.  How likely is that to happen?  Roughly the risk is 1 in 250,000.
Scary, right?
The risk of getting blot clots from another injection – Between 3 and 9 people out 10,000 will develop blood clots on the birth control pill.
Yet Birth Control pills are still widely prescribed and used in society with not a great deal of hoopla.  That being said, this what the vaccination centre looked like here :
"The mass COVID-19 vaccination clinic at the Edmonton Expo Centre can administer 7,000 shots per day, if operating at full capacity.

On Wednesday, it did 280.

The rapid-flow clinic is solely offering the AstraZeneca vaccine and only to Albertans aged 55 to 64. An Alberta Health Services spokesperson said the Expo clinic did not run at full capacity this week because a slow uptake was expected for the shots.

On its opening day on Monday, the clinic administered 1,632 doses. That dropped sharply the next day to 520. As of Thursday mid-morning, AHS said around 400 people were booked for the day.

Another mass clinic at the Calgary Telus Convention Centre is also facing low appointment numbers after it opened last week.

"The first day we were doing about 5,000. Right now, we have bookings for between 500 and 1,000 people," Dr. Cheri Nijssen-Jordan, AHS's vaccine task force co-lead, said in an interview with the Calgary Eyeopener on Thursday."

The targeted people in the demographic are small in society and are afraid of the AZ vaccine – because blood clots(?).

"Nijssen-Jordan said part of the issue is hesitancy brought on by reports of extremely rare blood clots occurring in people who have received AstraZeneca, also known as Covishield.

On Wednesday, Health Canada announced it had completed a safety review and found that AstraZeneca is safe, and that Canadians over 18 shouldn't hesitate to take it if offered.

Eligibility is still limited to those over 55 for the time being as the National Advisory Committee on Immunization (NACI) is still reviewing research and hasn't updated its recommendation. An Alberta Health spokesperson confirmed Wednesday that the province is following NACI's recommendation and will continue to only offer AstraZeneca to Albertans aged 55 to 64.

Dr. Deena Hinshaw, Alberta's chief medical officer of health, said Thursday that the province's Alberta Advisory Committee on Immunization would discuss expanding the age eligibility this week."
So because of statistical illiteracy we have viable vaccinations sitting on the shelf while not all essential and front line people have been vaccinated.
The UCP government has added fruitless dithering to its already terrible record of dealing with the pandemic in this province.
The GRA of 2004 gave trans people the ability to change legal sex via a GRC, but only if they had a psychiatric diagnosis of dysphoria and only after having lived in role for 2 years. The spousal veto gave spouses a chance to annul or obtain a favourable divorce.
While this ultimately created the loophole in women's rights that we've been fighting against in the last few years, it catered for a tiny number of dysphoric transsexuals and so did not have an enormous impact.
Discussions with trans friends and allies make it clear that, although surgery wasn't a requirement for a GRC, the diagnostic procedures were expected to trap and exclude males who did not want surgery, thereby preventing fetishists and opportunists from exploiting a GRC.
The Equality Act of 2010 defined the various protected characteristics, including both sex and 'gender reassignment', and provided for sex-based exemptions, under the auspices of which it is legal to exclude trans people from some single-sex spaces and services.
The campaign to reform the GRA to remove medical gatekeeping and make changing gender a matter of self-id was where women put our foot down. The GRA gave a very limited group of MtF transsexuals access to our spaces. Self-id would have made this any man who said he was a woman.
In addition, transactivists were demanding the removal of sex-based exemptions from the Equality Act. This would have left women with no ability to exclude males from any space on any basis, thereby removing every protection gained in the last century of feminism.
This is the effect of self-identified 'gender identity' (the ideological concept on which this rides) combined with the deliberate conflation of gender identity with sex. There is no possible point at which women can draw a line.
Our resistance to this campaign was successful; I think most people recognise that it isn't reasonable to allow any male to identify into women's spaces on his say-so. It was, however, self-id which was rejected, leaving women's rights open to further attacks.
Transactivists claim that the current process for obtaining a GRC is invasive and onerous, and continue to push for a reform they claim is 'merely administrative' (this doesn't gel with the attacks on the Eq2010 sex-based exemptions, though: https://t.co/MpxjXv5IoL)
They use the struggles of dysphoric people as a weapon, and by pushing back against self-id we replicate this. Personally I think the best place to attack the ideology is on the conflation of gender identity with sex: https://t.co/zN0ziAZzyM.
If we want fair play for both women and trans women, then it is time to confront the "trans women are women" mantra head-on, highlight why it is misogynistic and deeply harmful to women, and refuse to tolerate its use.

— Caroline – Real Feminists XX \U0001f1ff\U0001f1e6 (@radicalhag) January 16, 2018
This means that we say yes to all the demands of transactivists *except* the one which conflates TW with W, which effectively forces the declaration of a third (and possibly fourth) gender and the provision of facilities for them.
It means we're onboard with self-id, access to medical care, non-discrimination, ability to serve in the military etc, which of course we should be in any case. We do NOT want to get gaslit into a kneejerk rejection of anything trans, which makes us sound like rightwingers.
BUT it also means we insist on a positive, sex-based definition of woman, and force TRAs to show their hand. We know perfectly well what we're dealing with here; we want to force them to demonstrate to the public that their agenda is access to women's spaces, not trans rights.
This worked like a bomb when the UK govt provided a trans prison wing so they could remove MtFs from the female estate. The squawking and wailing about being 'othered' and 'caged' was epic, and Joe Public went "Yeah, right."
Basically it's a position which says: you're free to have a gender identity. You're not free to tell me *I* have a gender identity. And you are definitely not free to tell me that your gender identity is in any way comparable to my sex.
Contact your MP and get them to stop this bill.  Pronto. (Text from the Canadian Gender Report)
"Liberal MP Mark Gerretsen has confirmed in an email to one of our members that Canada is about to impose criminal penalties for parents, therapists and other healthcare professionals who do not offer "affirming support" to children who are experiencing gender dysphoria. The proposed Bill C6 will amend Canada's federal criminal code that purports to ban conversion therapy. As we can read from the admission of MP Gerretsen, Members of Parliament do not understand the implications of "affirmation" with respect to the type of support offered to youth struggling with their gender identity. The effect of Bill C6 will impose the narrow and poorly understood medical transition pathway recently coined "gender-affirming care".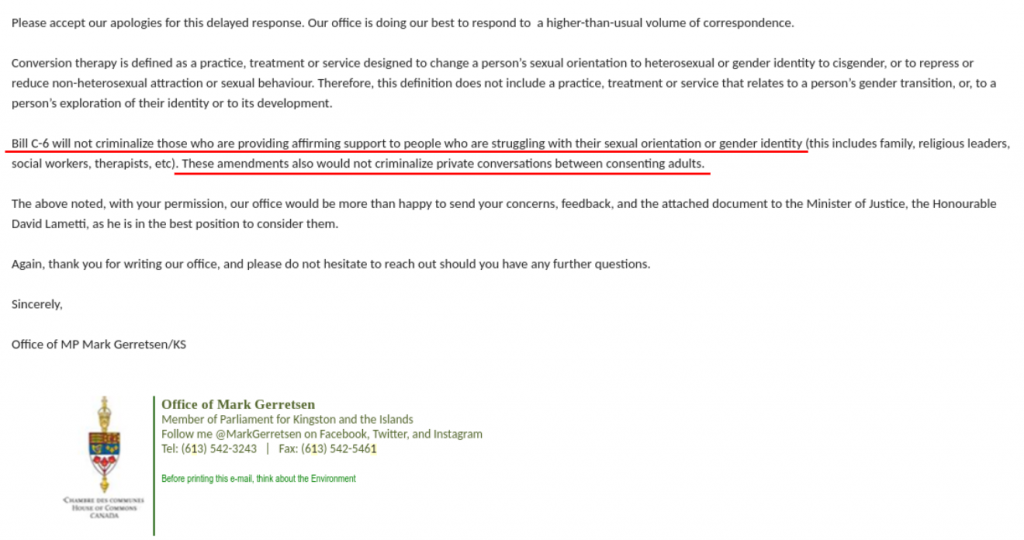 What is "affirming"?
The usage of the word "affirming" to qualify the type of support that can be provided to children and youth is very deliberate and needs to be explained as distinct from other clinical approaches.
Affirmation is a new treatment approach to children and adolescents experiencing gender dysphoria. The "affirming care" protocol dictates that medical interventions such as puberty blockers, cross-sex hormones and irreversible surgeries be provided to youth based on their self-directed gender "goals". 
The previously established clinical protocol of watchful waiting provided a supportive approach whereby children can be gently questioned about why they've started to identify as a different gender so that parents, clinicians and others can develop a complete picture of the child's needs and keep all options open to help the child resolve feelings of gender dysphoria without pushing them towards irreversible medical interventions. This more cautious model of care has been phased out in favour of "affirmation" at Canadian gender clinics.
The affirming model of care is an extremely risky approach because it does not allow a healthcare professional to explore how underlying factors may be contributing to a young person's newly adopted gender identity and feelings of gender dysphoria. Issues such as childhood trauma, psychiatric symptoms such as cutting or self-harm behaviours, autism or ADHD, feelings of shame due to same-sex attraction and many other issues a young person may be struggling with are often entangled with symptoms of gender dysphoria. 
An "affirming" approach to care hides these other issues and does not allow for the possibility that other factors may be the cause of a young person's new-found gender identity and be driving the need to medically transition as a coping mechanism.
The distinction between the previous, more cautious model of care and the new "affirmation" model is that children could be supported in their gender exploration without the need for all adults to agree and "affirm" that, in reality, the child actually "is" the opposite sex or a gender of their choice and provide them with whatever medical means they desire to transform their bodies to match their gender identity. 
Gender activists promote affirmation and social transition because this is viewed as supportive to transgender adults who have transitioned. "Affirming support" is designed exclusively for the needs of this group, not the needs of young people who are struggling to find appropriate care for their complex and individual needs and where social and medical transition may not be appropriate for their long-term well being.   
From "Affirming Support" to Puberty Blockers and More
The assessment process in place in Canadian gender clinics has become more and more narrow in scope over the past few years. The requirement for any type of mental health assessment has been removed completely in over 50% of the gender clinics in Canada. The only purpose of the remaining assessment process is to validate whether youth meet very minimal criteria to proceed with hormones and seem to be capable enough to sign a consent form. 
In fact, we were shocked that SickKids considered the long wait time to access an initial appointment at their gender clinic as an advantage as children would have this time for "considering options". This is an admission that the assessment process at Canada's largest gender clinic is not intended to determine who may be a good candidate for medical transition, but in fact, all children with a gender identity that does not match their biological sex are considered candidates for medical transition and it is only their "goals" and ability of the child to "reflect on their gender journey" that might determine otherwise.
"Affirming support" as a treatment protocol removes safeguarding and impacts informed consent 
Gender-affirming care is a narrow treatment pathway that does not allow the clinician to explore other options with young people as a means for managing their gender dysphoria. Today, youth are being referred to pediatric endocrinology clinics by their GP's while it's unclear to both the patients and the referring physicians that these clinics have adopted a pro-medical transition policy whereby the onus of responsibility is placed on the child or adolescent to guide the assessment process. In many cases we are aware of, it is up to the young person to refuse invasive hormonal interventions when these are offered as the treatment pathway by the presumably "expert" staff at the gender clinic.  
Consider, for example, these scenarios that erode proper safeguarding for youth who are considering medical gender transition: 
It is not considered "affirming" to help young people find mental health support for managing their gender dysphoria as an alternative to medical gender transitioning. We have heard several scenarios of young adolescents expressing doubt over transitioning to their healthcare team, including telling them that they are experiencing anxiety and/or depression. As a matter of course, young people are being told that these symptoms will subside once they start their prescriptions of Lupron or testosterone and are not being offered any further help to understand the root cause of their anxiety, depression or other factors they later realize have led them to believe they needed to transition. 
It is not considered "affirming" to be honest with young people considering medical gender transtition that many adolescents become comfortable in their own bodies and re-identify with their natal sex given time, and that some adults express regret at having transitioned. This information is not considered "affirming" of the group of people who have transitioned and are living as a different gender because it casts doubt at whether their lived experiences as the opposite sex has permanence and validity.  
"Affirmation" has become an ideologically driven philosophy of care that effectively removes safeguards including the ability for youth to be informed of the risks and consequences of medical transition necessary to be able to consent to these experimental interventions.  
Further evidence that medical gender transitioning of children in Canada has become a matter of personal autonomy can be found in this policy document of CPATH, the Canadian arm of the World Professional Association of Transgender Health, which clearly advocates for a ban on "gender conversion therapy" (Bill C6) in order to ensure that transgender people do not face any barriers to medical transition services. CPATH does not consider the age of the person making the decision to transition as relevant. 
This position presumes a "one-size-fits-all" affirmation and transition approach for children and adolescents which ignores the experience of desistors, a majority of cases where young people become comfortable in their natal sex. 
Why has the treatment protocol changed?
It's unclear why the treatment protocol has evolved to an "affirmation" approach rather than a more cautious clinical approach although the WPATH organization that sets the standard of care has gone through a significant change in leadership and approach over the past decade and has become advocates for transitioners rather than an objective organization that is free from conflicts of interest.
The affirmation model (treatment with puberty blockers followed by cross-sex hormones and gender-affirming surgeries) comes from the Dutch Protocol developed to support children with early-onset childhood dysphoria who did not desist from intense and persistent feelings of gender dysphoria with the onset of puberty. One of the key authors of that model has issued a warning in Pediatrics that it was never intended for the new population of adolescents that are being unquestioningly "affirmed". Dr Annelou DeVries acknowledges the phenomenon of ROGD (recent-onset gender dysphoria with no documented history in early childhood) which was not a part of the previous studies on hormone blockers. 
Finland and Sweden have conducted systematic reviews of gender treatment of children and both came to the conclusion that there was insufficient evidence for an affirmative approach. Finland developed their own clinical guidelines for treating children which includes significant caution compared with the "affirming" approach in place in Canadian gender clinics.
The UK now requires a best-interest court order prior to any youth being referred to a gender clinic. This has become the strictest requirement in the world to ensure that children are not being medically transitioned if there isn't clear evidence that it's in their best interests. The UK National Health Service is also conducting a review of the medical treatment protocol for transgender youth. This was prompted by detransitioner Kiera Bell's second lawsuit which challenged the MOU on Conversion Therapy, a document similar to Bill C6, because she was unquestioningly affirmed as a boy and was irreversibly harmed by this approach.  
Do Children Have the Capacity to Consent?
The underlying assumption of gender affirming care is that children and youth are capable of informed consent to an experimental pathway of medical treatments. Kiera Bell challenged this assumption in a judicial review last year and won her case. A key factor in the landmark decision by the UK High Court in December 2020 which now requires a "best-interest court order" to be in place prior to children being referred to gender clinics is that the clinics themselves do not understand the risks or benefits of hormone interventions including puberty blockers and cross-sex hormones on children and youth, therefore it is not likely that children are capable of consenting to medical interventions that will have such life-changing effects. 
Conclusion:
It is already extremely difficult for parents, trans-identified youth and detransitioners to access non-invasive and agenda-free healthcare options in order for them to receive a differential diagnosis prior to medical transitioning or to receive support to manage symptoms of gender dysphoria without being medicalized.
We are asking for the following exemption to be added to Bill C6 to ensure healthcare professionals are able to support youth effectively:
For greater certainty, this definition does not apply to any advice or therapy provided by a social worker, psychologist, psychiatrist, therapist, medical practitioner, nurse practitioner or other health care professional as to the timing or appropriateness of social or medical transition to another gender, including discussion of the risks and benefits and offering alternative or additional diagnoses or courses of treatment.
Without this exemption, Bill C6 will further entrench the doctrine of "affirmation" in the Canadian healthcare system. While all individuals should be treated with dignity and respect, the poorly understood approach of gender-affirming care is being challenged around the world for leading children down a narrow treatment pathway of invasive and often irreversible medical interventions. Our government should be protecting the interests of all youth by conducting an independent review of gender transition services including a review and evaluation of whether children possess the ability to consent to the life-altering treatments that are being offered to them under the mantra of "affirming".