You are currently browsing the category archive for the 'Canada' category.
When one takes time to examine the arguments put forward by the gender religious it quickly becomes obvious that past verbal intimidation and name calling, not many debatable points exist.
"That's the way feminists have used the terms since the 1970s, as they challenged patriarchal claims that men's domination and exploitation of women is "natural" because of biology. Patriarchy turns biological difference into social dominance. Feminists have long argued that gender is connected to our sex differences but is "socially constructed" in a way that reflects the unequal distribution of power between men and women over the past few thousand years. Anything socially constructed could be constructed differently through politics.

The trans movement flips that understanding, routinely asserting that gender is not the product of social forces but is a private internal state of being, which may be innate and immutable (opinions in the trans movement vary). In other words, transgender ideology asserts that gender is something one feels and has no necessary connection to one's body and reproductive system. Trans activists routinely assert that "sex is a social construction," that the biological distinctions of male and female are not objectively real but are created by societies. Stock painstakingly explains why this—again I'll use the phrase, though it sounds harsh—doesn't make sense.

In the preceding paragraph, I wrote "routinely assert" not only because there are differences of opinion within the transgender movement (which is to be expected in any movement) but because I have heard trans activists shift arguments when asked to defend a position (which is an indication of a weak argument in any movement). I once asked a trans activist, "If sex is socially constructed, that implies that it could be constructed in some other way. Do you know of any other way for humans to reproduce other than with an egg (produced by a female) and sperm (produced by a male)? By what means would human reproduction be socially constructed differently?" The activist offered no rebuttal to that, but simply dropped the claim, moving on to assert that trans people know what sex they "really" are and that any challenge to this idea was hateful and bigoted."
This paucity of argumentative integrity has not stopped the gender-faithful from pushing their agenda and colonizing female spaces in society.
Stock also explains why allowing transwomen—again, males who identify as women—to participate in women's sports will undermine and potentially eliminate sex-segregated activities that create opportunities for girls and women to thrive. Separate athletic competitions for males and females exist because of the physiological advantage males have over females, and those advantages don't disappear by identifying as a woman.

Does any of this really matter? Well, it matters to teenage girls who may not want to change clothes in a locker room next to a boy who identifies as a girl. It matters to women at a health club that allows transwomen in a "women only" space. It matters to clients in a women's homeless shelter that refuses to restrain sexually aggressive behavior of transwomen in order to be "inclusive." It matters to the woman who is bumped from a country's Olympic weightlifting team when a transwoman is allowed to compete as a woman. It matters to the women who were sexually assaulted by a transwoman who was housed in a women's prison. It matters to the lesbians who choose not to date transwomen—because their sexual orientation is toward female humans and not male humans who identify as women—and are then called bigots and ostracized. And it matters to the woman who had to fight to get her job back after being fired for publicly stating that she believes "that sex is immutable and not to be conflated with gender identity."

Trans activists' responses to these challenges vary, but they can be reduced to a trans slogan so popular that an LGBT organization in the UKput it on a t-shirt: "Transwomen are women. Get over it!"

To say the least, the meaning of the statement "transwomen are women" is not obvious, either intuitively or logically. It's a claim that many people find hard to understand, not because they are bigots but because it seems at odds with material reality. It would be more accurate to say: "Transwomen are transwomen, which raises many complex intellectual, political, and moral questions. Let's work out solutions that respect everyone's rights and interests!"

Not the catchiest slogan, but accurate and honest. It's a t-shirt that I think Stock would endorse. She doesn't condemn or mock trans people but rather seeks deeper understanding to make public policy choices as fair as possible for all.
The problem is that there has never been a public debate or a reasonable discussion of how we are in include the gender religious into society.  It has always been 'accept every demand, otherwise you are bigot!'.  It has gotten them far, but at the expense of female rights, boundaries, and safety, which is clearly unacceptable in a society that values individuals rights and freedom.
  Do you think referring to a man as a she/her is stupid?  Yeah, well you may have to watch your step and bite your tongue in Canada or face the consequences.   Write your MP and get them started on amending these laws to include a lick of common sense.

'Back in 2016, I fought tirelessly just to publish anything, anywhere, explaining my concerns about Bill C-16, Canada's gender identity legislation. Almost no outlet would consider it (certainly not our publicly-funded CBC), except, finally, The National Observer, who did me the favour. As a result, I was invited (via a Conservative senator) to testify against the bill at the Senate — I and Pour les droits des femmes Quebec (PDF), a Quebecois feminist group, were the only women and feminists invited to speak against the bill, and I suggested a representative from Vancouver Rape Relief and Women's Shelter also make a presentation, to put forward a feminist argument in favour of women-only space.

Our arguments were completely ignored by our left wing political representatives in the NDP, as well as by the Liberal government that proposed the bill, and Bill C-16 passed almost unchallenged. I had suspected as much, but wanted it to at least be on record that there was some push back from women/feminists. The only person who really received any traction on his arguments was Jordan Peterson, who expressed concerns about "compelled speech."

This trend has persisted ever since. Women's concerns about the sexism and danger of gender identity ideology have been almost completely ignored by Canadian media and politicians, and the debate has been consistently framed as one of "good, progressive, open-minded people who care about the rights and safety of marginalized groups" vs "evil, religious right bigots who hate gays, lesbians, and trans-identified people."

This has played out yet again in our attempts to challenge amendments to the "conversion therapy" bill proposed by the Liberals.

Last year, David Lametti, the Minister of Justice and Attorney General of Canada, reintroduced proposed amendments to the Criminal Code, which would criminalize "conversation therapy," commonly understood to be the practice of attempting to turn gay people straight. But the proposed amendments in Bill C-6 (which later became Bill C-4) conflated this homophobic practice with the practice of affirming "gender identity." Lametti told the Canadian House of Commons that "conversion therapy refers to misguided efforts to change the sexual orientation of bisexual, gay, and lesbian individuals to heterosexual [or to] change a person's gender identity to cisgender."

By adding "gender identity" to the bill, the Liberals succeeded in conflating homosexuality with the postmodern notion that one can "feel" like the opposite sex, and that this feeling in fact means you literally are the opposite sex. The new legislation will criminalize those who profit from or advertise "conversion therapy," including therapists and medical practitioners who do not practice the "affirmative model" — which means confirming an individual's "trans identity" unquestioningly. Because adults do have the right to make their own choices about their bodies and whether they wish to undergo cosmetic surgery, what we are really talking about here are children and teens — individuals who are not equipped to understand the long-term consequences of medical transition on their bodies and lives, and are sent to therapists before proceeding to hormone blockers, hormone treatment, then surgery. Indeed, therapists should encourage these youth to wait it out, not to rush forward on a path to medical transition — this is the responsible thing to do. Instead, they are now obligated to take the opposite approach.

Yesterday, the Senate passed Bill C-4 with no objections, which means it will be essentially illegal in Canada to question or challenge a child's declaration of transgender identity and their desire to socially and/or medically "transition" to the opposite sex.

This time around, feminist groups (and many other concerned individuals) did attempt to organize and speak against the bill, but were again ignored by the media, and clearly not taken seriously by politicians.

It is already difficult to question the legitimacy of gender identity ideology in Canada, and already practically impossible to access therapy that might allow a teen to grow out of their desire to transition, as so many do. This new legislation ensures it is now impossible to offer therapy that does not approach transition as the best path.

Moreover, the Liberal government is currently working to push through legislation criminalizing so-called "hate speech" online, which would surely include challenges to gender identity ideology and, for example, make it illegal to use correct pronouns to describe someone who prefers to use the pronouns traditionally reserved for the opposite sex.

Essentially, the Canadian government, considering itself ever-so-progressive, is criminalizing not only feminist speech, but free speech and critical thought as a whole. One will no longer be permitted to challenge government orthodoxy in Canada, and dissenters will not only be silenced, but punished under the law.

It is terrifying, and means an end to democracy and civil liberties in Canada.

The only solution is non-compliance — with all of it, though my solution has been to leave Canada, with the knowledge that I can no longer work and exist in my country without persecution. I will absolutely continue to speak and work for women's rights and constitutional freedoms everywhere, including in Canada, but not based out of my home country. It is difficult for me to envision a free future when so few are standing up and fighting back, and when our political representatives refuse to respect and hear our concerns, voices, and rights. We the people are our only hope — and I hope we fail to comply.'
Mia Ashton writes on Canadian Bill C-36 and its implications for women and feminists who have taken up the mantle of defending female rights and boundaries in Canadian society.
"There is the same complete lack of understanding surrounding this proposed hate speech legislation. Most people in Canada are not aware that a small subset of the population believes a simple statement of biological reality should be treated as a hate crime. Nor do they know that women's groups fighting to maintain their right to the safety of single-sex spaces are considered hate groups. Furthermore, most people still have faith in our legal system. It seems preposterous to the average person that the legal profession could be captured by a political ideology, but a quick look at British Columbia shows that our legal system is far from immune. In December 2020, BC courts issued new directives requiring participants to introduce themselves with their titles and preferred pronouns, and in 2019 a BC Human Rights Tribunal ruled that a Christian minister referring to a trans-identified male as a male in a pamphlet amounted to denying the existence of transgender people. This is an argument one would expect to find among gender ideologues on Twitter, but not in a legal setting.

Love it or loathe it, social media is now the town square. It is where almost all political discussions take place, where people go to get informed, test ideas, debate and organise. Gender critical feminists already play the Twitter language game, in which a statement as simple as only women have a cervix is enough to earn a permanent ban. Therefore, we all carefully word our tweets in the hope of evading suspension, but until now the worst that could happen to us for accidentally stating biological facts was Twitter or Facebook banning us. Now Canadian feminists have a much bigger reason to fear speaking or writing what everyone knows to be true: the very real threat of hate speech allegations, a fine of up to $70,000, and a costly and stressful court battle.

If this bill is reintroduced and becomes law, it will have a disastrous effect on a movement only just getting off the ground. For Canadian trans activists, of course, that is the point. Earlier this year, a prominent Ottawa trans activist, Fae Johnstone, tweeted: "I actually do want a political environment in which TERFs are so vilified they don't dare speak their views publicly, let alone act on them. Shut. Them. Down." It is frightening to think that this bill would give those with such undemocratic, authoritarian beliefs the power to report feminists for hate crimes from behind a veil of anonymity."
The notion that stating mere biological fact could be a 'hate crime' in Canada is chilling.
For the record these facts include the following:
1. Women are only adult human females.
2. Sex is immutable in humans.
3. Gender is not the same as sex, and gendered feelings do not overrule the common physical reality we all share.
C-36 is a dangerous bill if you value the marketplace of ideas and the idea of free speech.
From the Canadian Government's news realease –
"The legislation proposes four new Criminal Code offences that would prohibit:
causing another person to undergo conversion therapy

removing a minor from Canada to subject them to conversion therapy abroad

profiting from providing conversion therapy

advertising or promoting conversion therapy
The proposed legislation would also authorize courts to order the seizure of conversion therapy advertisements or to order their removal from computer systems or the Internet.

This bill expands on Bill C-6, adopted by the House of Commons in the previous Parliament. It does so by protecting all Canadians—regardless of their age—from the well-documented harms of conversion therapy practices.

Conversion therapy practices aim to change an individual's sexual orientation to heterosexual, to change an individual's gender identity to cisgender, or to change their gender expression to match the sex they were assigned at birth. They harm and further stigmatize sexual and gender-diverse persons and undermine their equality and dignity. They reflect myths and stereotypes about lesbian, gay, bisexual, transgender, queer and Two-Spirit (LGBTQ2) communities, particularly that their sexual orientation, gender identity or gender expression are wrong. These harmful practices also reinforce heteronormative and cis-normative ideas, as well as gender-conformity on LGBTQ2 individuals.

The practice can take various forms, including counselling and behavioural modification. Conversion therapy practices are discriminatory and have been proven to be harmful to the physical, mental and social well-being of the victim, even for adults who consented to it.

Criminal law reform is an important step in protecting the equality and dignity of LGBTQ2 persons, but more remains to be done. The Government of Canada is committed to working with provinces, territories, municipalities, survivors and stakeholders to ensure that Canada is a country where everyone—regardless of their gender expression, gender identity, or sexual orientation—can live equally and freely."
The Federal Liberals are going full steam ahead with the gender ideology bullshit.  It just passed the in the House of Commons unanimously – because our Conservative opposition has jello instead of a spine.
It looks like we're trying to codify the 'gendered soul' into law in Canada.  Of all the nebulous concepts that don't need the state backing them up, it at the head of the list.  This bill had better not be lumping the therapy that actually helps children be comfortable in their own body without surgery of hormones into an unlawful category.  The notion that watchful waiting and other material reality confirming therapies are unlawful is just fucking crazy.
From The Canadian Gender report:
"Ken Zucker, Ph.D. C.Psych and Professor of Psychiatry at the University of Toronto presented a discussion of the differences in developmental trajectories for children with gender dysphoria at the 24th Congress of the World Association of Sexual Health, in October 2019, Mexico City. The following information is summarized and quoted from his presentation.
Dr Zucker based his analysis on a review of a number of follow up studies for persistence and desistance rates. He categorized therapeutic approaches designed to reduce gender dysphoria into 3 different types:
Treatment 1:  Assessment, "watchful waiting"

Treatment 2:  Assessment, active treatment of many kinds (recommendations to parents to implement in the naturalistic environment, behavior therapy, play therapy, psychodynamic psychotherapy, group therapy, etc., etc.)

Treatment 3: Gender Social Transition
"The follow-up studies summarized so far, by and large, collected data on children who were assessed (and sometimes treated) prior to the emergence, around the mid-2000s, of pre-pubertal gender social transition as an alternative type of psychosocial treatment designed to reduce gender dysphoria: a treatment that parents may have instituted on their own, in consultation with a clinician, or on the advice of a clinician or some other type of professional (e.g., a teacher)."
The very low persistence rates in the case of Treatments 1 and 2 show that gender identity becomes more congruent with birth-assigned sex in the majority of cases.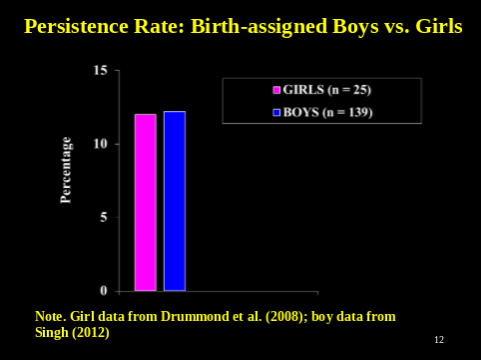 To compare the persistence and desistance rates of children who received a gender-affirming care approach characterized by social gender transitioning, Dr Zucker used data from Steensma et al. (2013) which reported a systematic follow-up study of children in which some children were classified as having had either a partial or a complete social transition prior to puberty.
The relationship between social gender transition and the follow-up persistence and desistance rates is striking. Among desisters, almost none of the natal boys had socially transitioned. Almost 45% of the persistors, however, had partially or completely socially transitioned, yet their gender dysphoria had not resolved.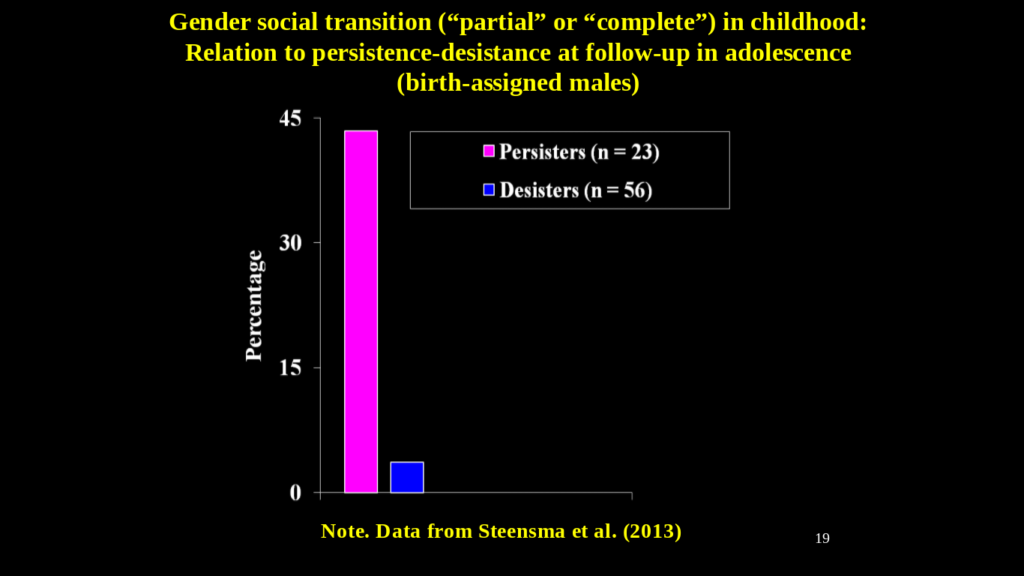 Social transition in relation to persistence and desistance was not as strong among the girls. Almost 60% of the persistors had socially transitioned. A significant number of desisters had socially transitioned as well, although Dr Zucker cautioned that the definition of social transition used by Steensma probably captured some girls where the social transition metric may have been very broad (e.g., change in hair-style or clothing style).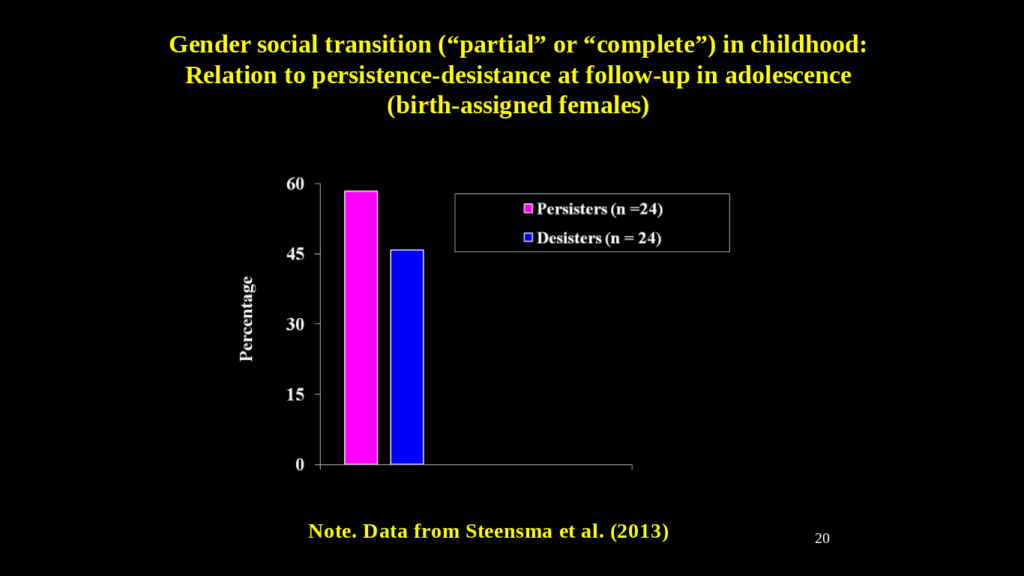 Dr Zucker predicts that as new samples of socially transitioned children become available, the rate of persistence will be much higher when compared to the older studies, where most of the children received either Treatment 1 or Treatment 2. Of the 3rd type of treatment, social gender transition, he commented that it offers a different approach that leads to desistance: the gender dysphoria dissipates because the child is now living in the "desired" gender; however, for desistance to remain stable, it will often, if not always, require biomedical treatment (life-long hormone therapy with or without gender-affirming surgery).
There are many possible pathways to desistance, which leads to the parental conundrum: which therapeutic approach does one take to reduce gender dysphoria? This is what the contemporary parent (and clinician) must decide."
This is some authentically scary shit.  Parents could be arrested for wanting effective means of treatment for their children.  This isn't good my fellow Canadians, and let us hope that the Senate can add some clarity to this proposed nightmare of a bill.
"A Canadian medical researcher who rose to become the nation's top voice on indigenous health has been ousted from her government job and her university professorship — after suspicious colleagues investigated her increasingly fanciful claims of Native American heritage and learned she was a fraud."
"Far from being a member of the Métis nation, as she had long claimed, a laborious trace of Bourassa's family tree revealed that her supposedly indigenous ancestors were in fact immigrant farmers who hailed from Russia, Poland, and Czechoslovakia.

Wheeler, a documented member of Manitoba's Fisher River Cree Nation, started digging into Bourassa's genealogical records — and took her findings to the media.

But when pressed to provide evidence of Native American heritage, Bourassa suddenly changed her story — saying that she had been adopted into the Métis community by an unnamed Métis friend of her deceased grandfather, Clifford Laroque.

"Even though Clifford passed, those bonds are even deeper than death because the family has taken me as if I was their blood family," she insisted in a statement. "In turn, I serve the Métis community to the best of my ability."
Wow. Can you see the appalling bigotry going on here?  The racialphobia present is literally off the charts.  Even the CBC is publishing horribly hateful bigoted articles just look:
"Wheeler said the fact that the letter advocates sidelining genealogical proof is alarming at a time when Indigenous people are fighting for their rights and their land.

"That's opening the doors to every Tom, Dick and Harry to claim Indigeneity," she said. "Then suddenly out of the woodwork, everybody's Indigenous because they feel like it."
According to an email from the University of Saskatchewan, if Indigenous identity or experience is required for a role, the university "accepts self-declaration in matters of employment."

Wheeler said that's not enough.

"When I apply for an academic job, I have to give them a copy of my certificate for my PhD," she said. "But if I'm applying for a position that's targeted only for Indigenous people, I'm not required to provide anything except self-identification. Now that's lowering standards."

Smylie said she decided to speak up, despite the risks to her career, because the consequences of continued silence are grave.

"If I was to stay quiet and let somebody who's an impostor regularly inform the nation and lead the nation like in Indigenous health, then I guess then I wouldn't [have] earned the right to call myself Métis anymore," she said. "And that will be the end of our people."
The discrimination and hatred that transracial individuals receive in Canada is real, and their very existence is being questioned.  When will this rampant transracialphobia and marginalization stop?
---
Is there a better example of how utterly inconsistent and deranged transgender ideology is?  Why in the case as 'someone who identifies as Indigenous' is lambasted in the press and yet, somehow a man can identify as a woman and all is well in the world (it really isn't).
Like, come on CBC, either self identification all the time or none of the time – it can't just be for men who think they are women.  You should be championing Bourassa's case not denigrating her and questioning her 'validity'.  So what if the established facts of the matter point to the exact opposite of her identity claims?  How can we not endorse Bourassa while tirelessly advocating for men to freely claim womanhood because they self-identify as such?
What is the metric you are using to promote one aspect of self-id,  but not the other?
Asking for the female population of Canada that is being erased in Canadian society through the wildly inappropriate application of gender identity laws.
The COP26 Summit, like other climate initiatives will be remembered as yet another paving stone laid on the path of collective good intentions by the nations of the world (excluding Russia and China…).
"GLASGOW, Scotland — Climate activist Greta Thunbergsaid Friday that the COP26 climate summit is a failure, lambasting the U.N.-brokered talks for turning into a public relations exercise.

"It is not a secret that COP26 is a failure. It should be obvious that we cannot solve the crisis with the same methods that got us into it in the first place," Thunberg said.

"The COP has turned into a PR event, where leaders are giving beautiful speeches and announcing fancy commitments and targets, while behind the curtains governments of the Global North countries are still refusing to take any drastic climate action."
Well, there looks to be a little substance behind all of the green washing:
"Here's a reminder of what has been happening today at COP26 – where there has been a focus on energy.

More than 40 countries agreed a pledge to shift away from coal but some of the world's major coal burners, including the US and China, did not sign up

Critics said that because of that, the announcement fell short of what is needed

However the US, Canada and the UK were among the signatories to a joint statement on ending international public financing for fossil fuels

COP26 president Alok Sharma said coal was "no longer king" but admitted more needed to be done

The influential International Energy Agency said that promises made at the conference would keep the world to a 1.8C degree rise in temperatures

However that would depend on all promises being kept and delivered – which experts say is far from certain"
Glad to see all those promises being rolled out.  I think that a lukewarm response is justified as such promises, once they hit the reality of country's national politics and 'interests' will be quickly ignored and the business will return to usual.
I think many, including myself, are now entertaining their own Dr.Strangelove moment.  Presently, renamed to How I Stopped Worrying and Love the Climate-Change.
The forthcoming changes to our way of lives will simply happen.
We will have arable farmland until after the nth season of drought, thenwe will not.
We will have polar vortex events consistently through Canada's winter at a great pace.
We will have affordable energy and energy infrastructure, until well, we don't.
Various climate switches are being, and have been thrown, across the world.  For instance in the US the involuntary test and stress of its resiliency is already happening –
"Trevor Riggen, the head of the American Red Cross's domestic disaster program, said the agency is "testing the limits" of its network. This week alone, more than 2,000 staff and volunteers have deployed across 10 states. Many of them are on their second or third crisis of the summer.

"It's no longer, 'We have a big event and then there's time to recover,'" Riggen said. "Disaster has become a chronic condition."

But the extent of damage wrought by climate change will be determined by how the nation plans for it, and how the communities rebuild.

Almost half of public roadways are currently in poor or mediocre condition, according to the American Society of Civil Engineers — making events like the deadly collapse of a Mississippi highway during Hurricane Ida more likely. The location and condition of some 10,000 miles of levees in the United States are unknown. Chronically underfunded storm water systems are unable to cope with record rainfall. Many electric utilities have not taken steps to ensure the grid keeps functioning amid worsening hurricanes and wildfires.

Communities need to start preparing for the unprecedented, Fugate said. Coastal cities should develop alternative evacuation plans to avoid getting caught off-guard by rapidly intensifying storms — for example, building comfortable, well-equipped shelters for people who don't have time to flee. Levees and storm-water systems must be built to withstand floods that would have been impossible in a cooler world. Amid unstoppable wildfires, homes at the edge of forests can be made safer with flameproof building materials.

Social systems are also in need of repair, said Arcaya. During heat waves, early warning systems and check-ins from neighbors have been proved to save hundreds of lives. After hurricanes, research shows, people with strong connections to their neighbors experience less trauma and are better able to get back on their feet.

The country will need a robust support system to help thousands of displaced people navigate the bureaucracy required to obtain federal assistance, Arcaya said. And since disasters often destroy affordable housing, the nation will need to invest in building more places for people to live.
These changes will be expensive, Fugate acknowledged. But the cost of responding to disasters already totals more than $81 billion per year. "It's a choice between spending now or spending more in the future."
   I'm not going to go out on a limb here and state that we are going to choose to spend now aaaand spend more in the future as we try to correct the fuck ups of the present day.
   The saving grace of the entire situation is that when the truly calamitous events start, I most likely will be dead.   Strangely reassuring I suppose, but honestly, I think it's the only way the exploitation driven economic system we have ends.  When it starts fucking over the 'important' people – then and only then – will we move as a collective to 'save the earth'.  Vastly too little too late, but at least the effort will be genuine then.
This from CBC Kamloops.  A nice bit of female erasure to start your day.
It would seem our national news broadcaster has mysteriously misplaced the common knowledge that only women have the capacity to be pregnant.  This is blatant female erasure from the public sphere, and it must be stopped.
Please follow the link back to the article and report a typo in the headline and correct the headline so it matches the reality we all share.
Thank you.