You are currently browsing the tag archive for the 'Oh Canada?' tag.
From the Canadian Government's news realease –
"The legislation proposes four new Criminal Code offences that would prohibit:
causing another person to undergo conversion therapy

removing a minor from Canada to subject them to conversion therapy abroad

profiting from providing conversion therapy

advertising or promoting conversion therapy
The proposed legislation would also authorize courts to order the seizure of conversion therapy advertisements or to order their removal from computer systems or the Internet.

This bill expands on Bill C-6, adopted by the House of Commons in the previous Parliament. It does so by protecting all Canadians—regardless of their age—from the well-documented harms of conversion therapy practices.

Conversion therapy practices aim to change an individual's sexual orientation to heterosexual, to change an individual's gender identity to cisgender, or to change their gender expression to match the sex they were assigned at birth. They harm and further stigmatize sexual and gender-diverse persons and undermine their equality and dignity. They reflect myths and stereotypes about lesbian, gay, bisexual, transgender, queer and Two-Spirit (LGBTQ2) communities, particularly that their sexual orientation, gender identity or gender expression are wrong. These harmful practices also reinforce heteronormative and cis-normative ideas, as well as gender-conformity on LGBTQ2 individuals.

The practice can take various forms, including counselling and behavioural modification. Conversion therapy practices are discriminatory and have been proven to be harmful to the physical, mental and social well-being of the victim, even for adults who consented to it.

Criminal law reform is an important step in protecting the equality and dignity of LGBTQ2 persons, but more remains to be done. The Government of Canada is committed to working with provinces, territories, municipalities, survivors and stakeholders to ensure that Canada is a country where everyone—regardless of their gender expression, gender identity, or sexual orientation—can live equally and freely."
The Federal Liberals are going full steam ahead with the gender ideology bullshit.  It just passed the in the House of Commons unanimously – because our Conservative opposition has jello instead of a spine.
It looks like we're trying to codify the 'gendered soul' into law in Canada.  Of all the nebulous concepts that don't need the state backing them up, it at the head of the list.  This bill had better not be lumping the therapy that actually helps children be comfortable in their own body without surgery of hormones into an unlawful category.  The notion that watchful waiting and other material reality confirming therapies are unlawful is just fucking crazy.
From The Canadian Gender report:
"Ken Zucker, Ph.D. C.Psych and Professor of Psychiatry at the University of Toronto presented a discussion of the differences in developmental trajectories for children with gender dysphoria at the 24th Congress of the World Association of Sexual Health, in October 2019, Mexico City. The following information is summarized and quoted from his presentation.
Dr Zucker based his analysis on a review of a number of follow up studies for persistence and desistance rates. He categorized therapeutic approaches designed to reduce gender dysphoria into 3 different types:
Treatment 1:  Assessment, "watchful waiting"

Treatment 2:  Assessment, active treatment of many kinds (recommendations to parents to implement in the naturalistic environment, behavior therapy, play therapy, psychodynamic psychotherapy, group therapy, etc., etc.)

Treatment 3: Gender Social Transition
"The follow-up studies summarized so far, by and large, collected data on children who were assessed (and sometimes treated) prior to the emergence, around the mid-2000s, of pre-pubertal gender social transition as an alternative type of psychosocial treatment designed to reduce gender dysphoria: a treatment that parents may have instituted on their own, in consultation with a clinician, or on the advice of a clinician or some other type of professional (e.g., a teacher)."
The very low persistence rates in the case of Treatments 1 and 2 show that gender identity becomes more congruent with birth-assigned sex in the majority of cases.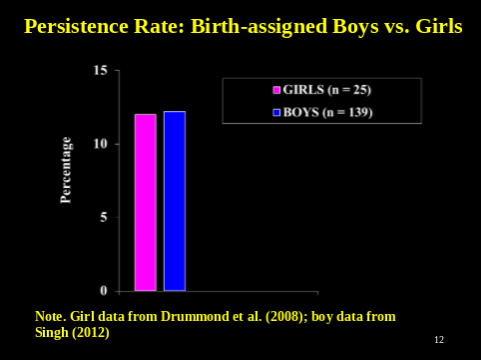 To compare the persistence and desistance rates of children who received a gender-affirming care approach characterized by social gender transitioning, Dr Zucker used data from Steensma et al. (2013) which reported a systematic follow-up study of children in which some children were classified as having had either a partial or a complete social transition prior to puberty.
The relationship between social gender transition and the follow-up persistence and desistance rates is striking. Among desisters, almost none of the natal boys had socially transitioned. Almost 45% of the persistors, however, had partially or completely socially transitioned, yet their gender dysphoria had not resolved.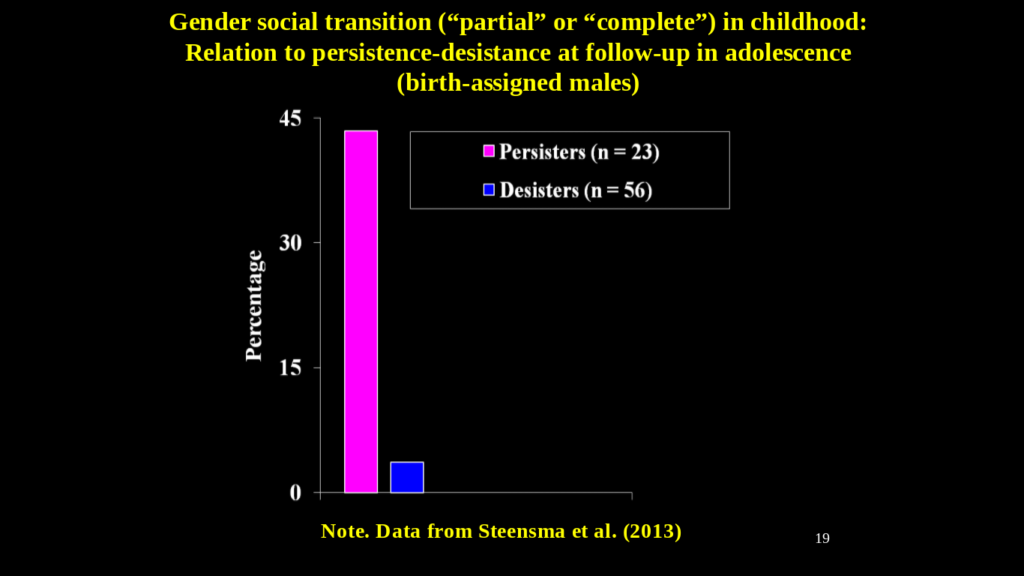 Social transition in relation to persistence and desistance was not as strong among the girls. Almost 60% of the persistors had socially transitioned. A significant number of desisters had socially transitioned as well, although Dr Zucker cautioned that the definition of social transition used by Steensma probably captured some girls where the social transition metric may have been very broad (e.g., change in hair-style or clothing style).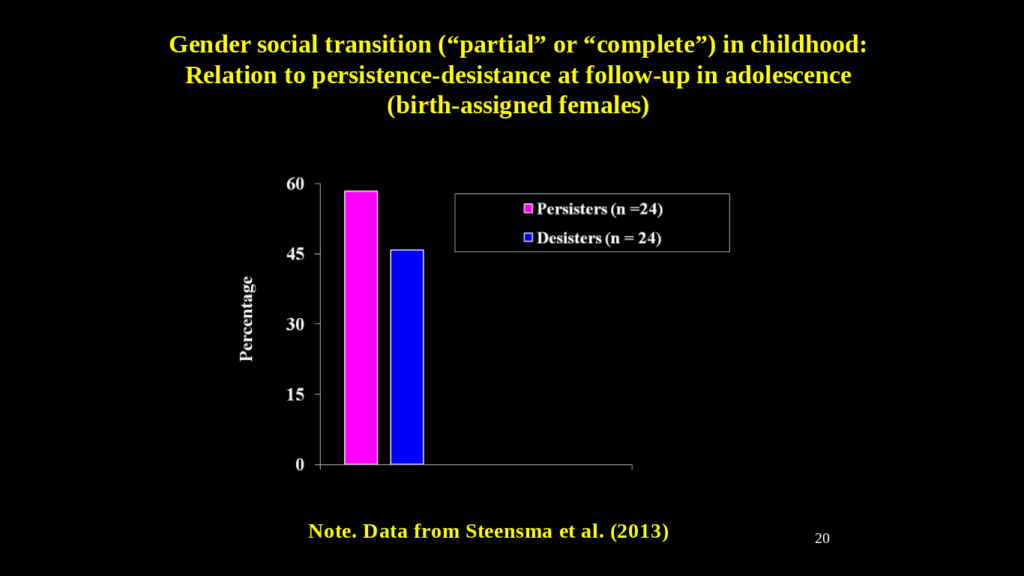 Dr Zucker predicts that as new samples of socially transitioned children become available, the rate of persistence will be much higher when compared to the older studies, where most of the children received either Treatment 1 or Treatment 2. Of the 3rd type of treatment, social gender transition, he commented that it offers a different approach that leads to desistance: the gender dysphoria dissipates because the child is now living in the "desired" gender; however, for desistance to remain stable, it will often, if not always, require biomedical treatment (life-long hormone therapy with or without gender-affirming surgery).
There are many possible pathways to desistance, which leads to the parental conundrum: which therapeutic approach does one take to reduce gender dysphoria? This is what the contemporary parent (and clinician) must decide."
This is some authentically scary shit.  Parents could be arrested for wanting effective means of treatment for their children.  This isn't good my fellow Canadians, and let us hope that the Senate can add some clarity to this proposed nightmare of a bill.
This webpage from the Official Canadian Department of Justice is incomplete because of this:
Where the hell is the definition for men?  Did our esteemed Canadian Legal Justice of Department make a little oopsy-boo boo?  Probably not.  You know why?  Because the category of men is fucking indisputable, men will not tolerate having their category "expanded to be more inclusive" because 'as it known' men are fully fucking human and distinct category within society.  Those females though, they get a whole new meaning that erases them from society it can be found later in this gem of a webpage. I quote:
"Women: All people who identify as women, whether they are cisgender or transgender women."
A kindly reminder double XX'ers that you malleable and erasable in society,  -because 'gender-feelings' – males can claim they are women and should be treated as female, and have access to female only spaces, services, and sports.
I'll be identifying as rightfully pissed off until this gender nonsense is debunked, repealed, and removed from official Canadian Government Websites.
I say erroneous because it includes bullshit like this:
"Cisgender: People whose gender identity matches the sex that they were assigned at birth."
No person 'identifies' with the toxic set of stereotypes that society attempts to shoehorn them into.  Especially true for women, as identifying as second class citizen (work for less, second shift, objectification FTW!!!), just isn't fucking appealing. 
Gender-diverse: Refer to individuals who do not identify as exclusively male or exclusively female (for example, individuals who are non-binary or two-spirit).
People have personalities.  You are either male or female, with a personality. 
Gender identity: A person's internal and deeply felt sense of being a man or woman, both or neither. A person's gender identity may or may not align with the gender typically associated with their sex.
What kind of fucking bullshit is this.  We do not have souls, gendered or otherwise.  What – exactly – does feeling like a woman (or man) entail?  Can you describe the experience without using stereotypes?
Non-binary: Person whose gender identity does not align with a binary understanding of gender such as man or woman. A non-binary person may identify as neither a man nor a woman, both, or anywhere along the gender spectrum.
I feel the need to have my own special category that is essentially meaningless so I can feel good about myself for my supposed uniqueness… Get quickly into the Sea, narcissist. 
Sex assigned at birth: A person's biological status as male, female, or intersex based on their primary sexual characteristics at birth.
Sex is observed at birth.  There is no assigning.  The doctor looks at your junk and on that can accurately observe what sex you are.  No assignment necessary. 
Women: All people who identify as women, whether they are cisgender or transgender women.
Goddammit Canada.  I'm going to identify as the fucking Queen and have the legal department hung by its thumb until some fucking sense trickles back into the department.  Women are adult human females.  End of fucking story you nitwits. 
Gender ideology is infesting our institutions.  It needs to be stopped before it goes any farther.
This from Rugby Canada –

"Rugby Canada CEO Allen Vansen stated, "Our trans inclusion policy was written and developed by Sport, Law & Strategy Group, and is aligned with the guidance document 'Creating Inclusive Environments for Trans Participants in Canadian Sport.' Participation in community rugby in Canada is encouraged based on the gender in which a participant identifies and is not to be subjected to requirements for disclosure of personal information beyond those required of cisgender athletes."
Physical reality does not magically melt away because we wish it so.  Men cannot ever be women and the very notion that 'woman' is an idea inside a man's head is completely sexist and offensive.
This policy against female safety and the sex segregation of support is completely out of touch with reality and needs to be fixed ASAP.
I'm fairly new on Twitter but have already had the displeasure of witnessing the fury of faux-progressive backlash against feminism and feminists attempting to speak their mind in public places… in Canada.  Canada??  The easy going, live and let live notions we like to believe in the more sensible regions of Canada seem to dissipate in our larger cities.  Queer rights activists and trans activists have mounted a vigorous assault not on the arguments of gender critical feminists, but rather their character, the venues that host said feminists, and a rather hyperbolic set of straw assertions/mantras that serve as conversational dead ends/thought terminating cliches.
This is not the left that I grew up with, nor do I intend to ever associate with.  These individuals seem to believe that their individualistic solutions to systemic social problems will somehow win the day.  Not gonna happen.
The comparison between the regressive left and religious is worthy of examination.  James Bloodworth makes the comparison in his essay on Unherd.
"But politics as religion invariably comes with a cost. There is, naturally, a constant hunt for heretics. Public denunciations followed by 'cancellations' are de rigueur. Rigid adherence to doctrine is celebrated, while those who err are pompously told that they are on the "wrong side of history". Political spats focus on the moral character of a person rather than the content of their arguments. Public arguments in which, as Swift phrases it, "identity leftists spend a great deal of time expending venom… at fellow leftists with whom they have some minor disagreements" are ubiquitous on Twitter and other social media.

All of this takes the Left further into the echo chamber, away from the people it is supposed to represent. Attitudes which are held by the vast majority of Britons — that there should be some upper limit on immigration, that sex differences exist, that gender isn't entirely a social construct — are enough to get a person 'cancelled' by today's hobbyist Left. Moreover, the slippery equation of words — or even thoughts — with violence creates a censorious climate where activists feel justified in hounding people from public life completely."
See the transactivists haranguing women and trying to disrupt two public (in Toronto and Vancouver respectively) gatherings that featured Meghan Murphy and other feminist speakers was solid proof for me of the parallel.
Hey Folks.  First things first.  Please go here and donate to the Vancouver Rape Relief and Women's Shelter, they are being defunded because of the actions of a male piece of shit transactivist that has decided that men really need to be allowed into a woman's rape crisis centre.
Don't care how much you give, just give.  Women need access to female only spaces for their protection.  Demonstrate to Morgane Oger and the BC NDP that the safety of females takes precedence over the feelings of men.  This is so important.
Did you want to see male entitlement in action?  Here we go in twitter….
Outrageous! Utter tripe.  This is where legislating the bullshitty-nebulous concept of 'gender identity' leads.  The defunding of services for women (Adult Human Females) in our society.  We're taking away funding from rape shelter because they refuse to fall into lockstep with the male delusions that somehow have been put into law here in Canada.
Yep, because establishing your own spaces is hard.  Colonizing and excluding females from the spaces they build for themselves is much easier.
See how smug this asshole is?  This is your gender inclusive 'feminism' in action.  Centring around the needs of men and kicking women to the curb.  This denial of biological reality  and female safety is a disgrace and must be rectified.  Gender legislation based on male delusion needs to go far,far away and the sooner the better.
Given how the world works, I find it hard to believe that Canada is taking a principled stand on human rights in Saudi Arabia. Western democracies certainly try to own the rhetoric when it comes to democracy, peace, and freedom – but their realpolitik is quite similar to the nations they routinely criticize for being autocratic dictatorships that are terrible to their people.
My skepticism aside, this is the tweet that started the diplomatic furor between Saudi Arabia and Canada:
Well, the powers that be in Saudi Arabia didn't like that one bit:
"We consider the Canadian ambassador to the Kingdom of Saudi Arabia persona non grata and order him to leave within the next 24 hours," Saudi Arabia's Foreign Ministry said on Twitter.

"Any other attempt to interfere with our internal affairs from Canada, means that we are allowed to interfere in Canada's internal affairs," it said.

"Saudi state television later reported that the Education Ministry was coming up with an "urgent plan" to move thousands of Saudi scholarship students out of Canadian schools to take classes in other countries."

"Saudi Arabia said it is also freezing all new trade and investment transactions with Canada and "reserves its right to take further action." Saudi Arabia is one of Canada's largest export markets in the region, and some 10 per cent of Canadian crude oil imports come from Saudi Arabia."

"Of course the major worry for Canada will now be the fate of a $15-billion contract for almost 1,000 light armoured vehicles between the Saudi government and London, Ont.'s General Dynamics. The controversial deal, struck in 2014 and approved in 2016, called for the vehicles to be delivered starting in 2017, but it's not clear how many have already been sent as Ottawa refuses to release the "commercially confidential" information."

"The Kingdom of Saudi Arabia is reportedly selling off its assets in Canada and will stop buying Canadian wheat and barley, in the latest escalation in the sudden diplomatic dispute between the two countries."

"The national Saudi Arabian airline, Saudia, said this week that it would suspend all flights between the country and Canada, starting next week."
I think I speak for many Canadian when I say. "WTF just happened here?".  The Saudi record on human rights isn't a particularly deep dark secret and to call for a what seems to be a bit of leniency in one specific case doesn't seem as beyond the pale as the Saudi's seem to think it is.
Would Canada recall its ambassadors and impose sanctions if Norway made light of our decidedly horrible treatment of our First Nations people?  I'm pretty sure we wouldn't.  Most likely some diplomatic hand-waves and some impassioned statements about how we're working hard (we're not) to improve the lives of all Canadians and then the issues would pass.
What is more intriguing is that despite the Saudi backlash, Canada's government isn't backing down:
     "Foreign Affairs Minister Chrystia Freeland says Canada isn't backing down from its position that led to diplomatic sanction from Saudi Arabia.

Freeland made the comments Monday afternoon in Vancouver a day after Saudi Arabia announced it would cease new trade deals with Canada and expel the Canadian ambassador.

"I will say Canada is very comfortable with our position. We are always going to speak up for human rights; we're always going to speak up for women's rights; and that is not going to change," she told a news conference.

"Canadians expect our foreign policy to be driven by and to embody Canadian values, and that is how we intend to continue our foreign policy."

On Friday, Global Affairs Canada had tweeted, "Canada is gravely concerned about additional arrests of civil society and women's rights activists in Saudi Arabia, including Samar Badawi. We urge the Saudi authorities to immediately release them and all other peaceful human rights activists."
This is post is just full of WTF's.   Freeland seems to be articulating a values based position on a foreign policy issue.  It makes little sense has Saudi Arabia is clearly demonstrating their willingness to go full-trump and punish Canada economically for having the 'bombast' to ask them to release a blogger they have detained and are torturing (sorry folks, flogging is torture any way you want to slice it.)
It's sad that I'm feeling so cynical about this particular story, and continue to look for the angle that the Canadian government is not sharing with the press.  Like, since when do nations actually take ethical stands on any issue these days?  It just isn't good for business.
I'm going to continue to follow this story folks, because something just isn't adding up.